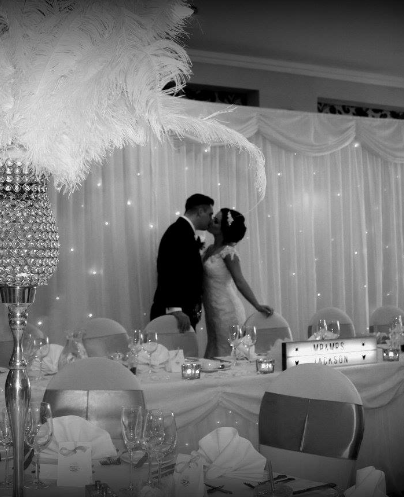 Laurie and Scott got married on 31/12/2016. Their Big Day started at Shilton Church followed by a reception at Ansty Hall, Hotel. Laurie had planned a real glitz and glam wedding full of crystal and feathers.
Laurie's Story……..
The Love Story
We met each other through mutual friends when we were 14 years old, we disliked each other from the moment we met, he was arrogant and I was snobby! (But there was always this strange underlying spark between us!) However one Valentine's Day house party we kissed and the rest is history! 15 years old and we were together and a solid team for over a year. However, teenage dramas, gossip, jealous friends, corner of the street secret drinking Etc.. caused us to split up!
He chased me for months, with flowers and gestures but i was playing hard to get and then eventually we went our seperate ways with work, college… we met other people, and I was hardly ever in my home town so never bumped into him, however he was always in the back of my mind.. on my 21st birthday I received a Facebook message "aren't old friends invited to parties nowadays" and again the spark was there again! (He did turn up at my 21st party not officially invited) but the feelings came flooding back and we couldn't stay away from each other.
Since then we have been an unbreakable team, of course we have had many downs but a great amount of ups which outweigh the bad times. He is my best friend and my childhood sweetheart. We had a sign at our wedding saying 'it was always you' because it was!
We got married on New Year's Eve and have two beautiful children aged 4 and 2 and our building our empire together!
The Dress
I wanted something that would hug my figure, being small I always found that bigger dresses made me look bigger than what I actually am! I wanted a dress to hug my bum (my husbands best asset on me) and a dress with an open back as I wanted to feel a little bit sexy (and don't have much of a bust after having two children)
When I saw the dress, I was overwhelmed with the beautiful lace detail (especially at the bottom of the dress and train) and I fell in love with the classy but blingy gem/beading detail on the shoulders and back – it gave the dress the wow factor and in the church lighting and the evening disco, my dress was gleaming! This worked perfectly with my New Years glitz and glam theme. Laurie was a Justin Alexander Bride and chose her beautiful fishtail lace Justin gown with delicate beading and diamante detail to the shoulders and back. It was perfect!
Laurie's most memorable memories from her Big Day….
That heart wrenching moment where the bridesmaids and ushers have walked down the aisle and it's finally you're turn, all eyes on you – just as the 'here comes the bride' music begins – that feeling is indescribable !
Our favourite moment as a couple was the countdown to New Year's Eve, all our special family and friends in one room all on the dance floor linking arms dancing and counting down to the new year, me and Scott in the centre of the circle and popping out our confetti fountains as soon at midnight strikes! That was an amazing feeling looking at everyone's faces all united together and smiling. One we will never forget!
Laurie's Wedding Suppliers for her Big Day
Hair – Jodie Cortese
Photographer – Rachel Faye Photography
Flowers – Melissa Scott
Thanks Mrs Jackson for sharing with us your Real Bride story! xx